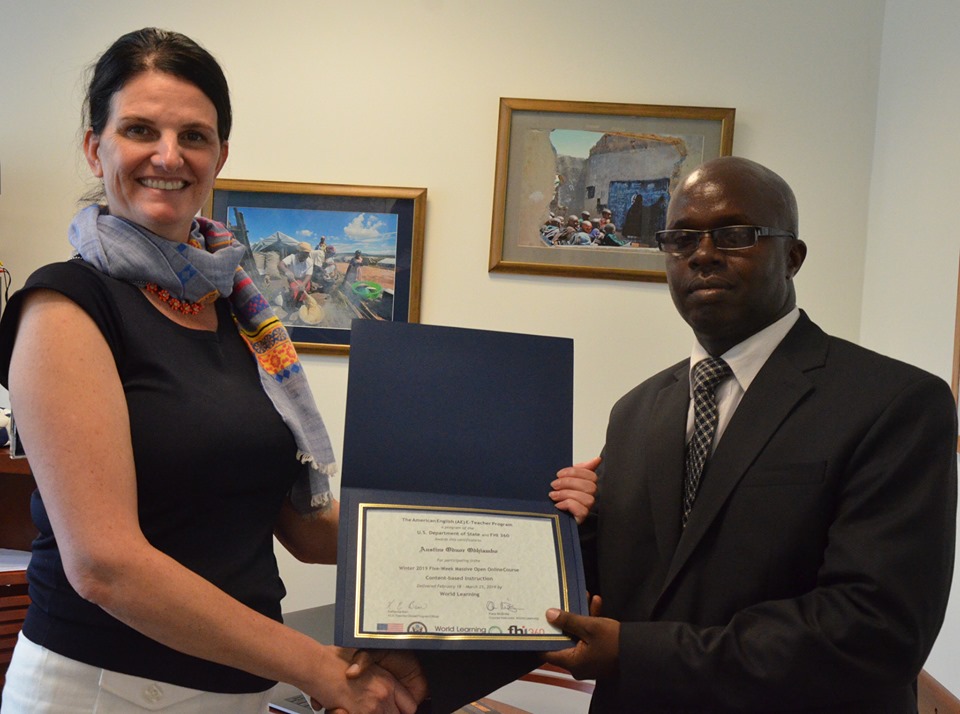 The Fall 2019 American English (AE) E-Teacher Program will commence on September 24, 2019 with an amazing team of three teachers nominated to represent Kenya, stated Austine Oduor, the CEO and Founder of Ostin Moriz International Solutions.
Ostin Moriz International Solutions, an institution devoted to transforming the wellbeing of individuals through education, training, and writing got the opportunity to nominate teachers drawn from both public and private schools for the Fall Program. 
"For those who did not meet the cut," he added, "There are more programs to be rolled out in 2020 for winter, summer and spring which will be posted in our website www.ostinmoriz.com and Facebook https://www.facebook/ostinmoriz/  pages.
The (AE) – E-Teacher program involves nomination through the portal, self-registration, placement and orientation where participants are acquainted with Canvas Learning, Management System, Online Learning and American Academic culture. The Embassy of the United States of America in Kenya through its Outreach Coordinator, Rukiya A. Mwinyi, helps in coordinating the programs. 
The course runs for 8 weeks and successful participants are awarded certificates besides being added to the Community of Practice and they can be selected to facilitate Massive Open Online Courses (MOOCs) as alumni. 
The Fall 2019 E- Teacher program course will be on Professional Development for Teacher Trainers (PDIT) that will end on December 9, 2019 with the awarding of certificates to the participants who successfully complete the program. 
The other areas that the subsequent E-Teacher Program will look at are: Teaching Grammar Communicatively (TGC), Integrating Critical Thinking Skills into the Exploration of Culture (ICT), Content Based Instruction (CBI), Using Educational Technology in the English Language Classroom (ET), Teaching English to Young Learners (TEYL) who range from 3-10 years old and TESOL Methodology. 
Arthur Otieno Otieno, an English and Literature teacher from Maseno National School, is excited to start the program. Through his interaction so far with the materials he asserts, "This is the kind of training that we have always lacked and an antidote to challenges we have had over the years while teaching. The program is ideal and timely." I look forward to learning and sharing the wealth of knowledge gained from the course with my students and fellow teachers to help improve the standards of English not only in my school and country but also across the region. 
Austine Oduor a beneficiary of MOOCS having done Content Based Instruction (CBI) early this year and was awarded a certificate concludes, "We thank the United States (US) Embassy in Nairobi through its Outreach Coordinator for these opportunities that help to improve quality of learning in our institutions and also develop teachers competence in teaching the content. 
The courses are provided by World Learning, IOWA State University, George Mason University, Arizona State University and an honors university in Maryland.